Current and Upcoming Exhibitions
The next BAPC exhibition MAGNETIC PULL will open at ARC Studios in San Francisco, 1246 Folsom St, on January 16, 2021 (conditions permitting).
The show is to be curated by Daniel Nevers and Jennifer Brandon.
Further details will be posted here as they become available.
http://www.bapc.photo/wp-content/uploads/2017/03/BAPC_logo_F-1.png
0
0
Steve Goldband
http://www.bapc.photo/wp-content/uploads/2017/03/BAPC_logo_F-1.png
Steve Goldband
2020-06-25 13:55:37
2020-06-26 10:45:18
MAGNETIC PULL @ ARC Gallery and Studio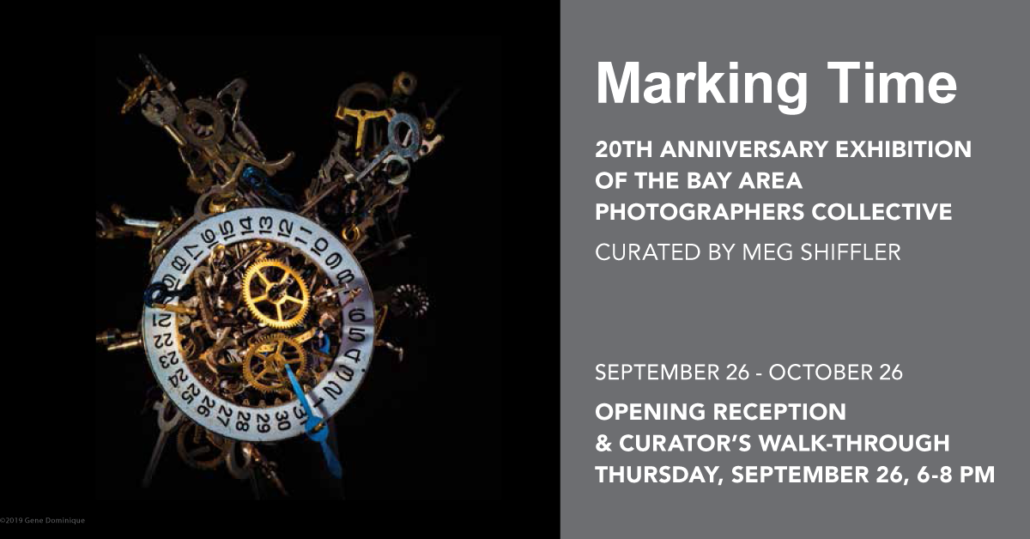 20th Anniversary Exhibition of the Bay Area Photographers Collective
Curated by Meg Shiffler
September 26-October 26, 2019
Events:
September 26, 6-8pm: Opening Reception and Curator's Walk-through:
October 12, 2-4pm (Meetup hosted by Ari Salomon)
October 26, 2-4pm (Closing day Meetup hosted by Rose Borden)
Harvey Milk Photography Center, 50 Scott Street, San Francisco CA 94117 (website)
Gallery hours: (closed Mon & Fri)
Tues 3-9:30
Wed 5-9:30
Thurs 3-9:30
Sat-Sun 11am-5pm
How do we mark time? We all do it. Humans compulsively invent new ways to drop pins in the flow of time so that as much of life as possible takes root in our personal memories and collective consciousness. On the occasion of Bay Area Photographers Collective's 20th anniversary, Marking Time honors the founders and celebrates the vibrancy and diversity of the current membership through recent works that highlight our relationships to each other, the built and natural world, and photography itself.
The Bay Area Photographers Collective is a community of photographers who nurture each other's professional and artistic growth through through peer critiques, group exhibitions, workshops, and more. Members' work ranges broadly from fine art to documentary, color to black-and-white, and traditional darkroom to advanced digital to alternative process methods. BAPC is a nonprofit 501(c)3 organization established in 1999.

Participating Artists
Jason Andrescavage, Rose Borden, Tamara Danoyan, Anthony Delgado, Gene Dominique, Richard Dweck, Dan Fenstermacher, Linda Fitch, Steve Goldband, Ralf Hillebrand, Ken Hoffman, Ellen Konar, Philip Krayna, Tom Lavin, Dan Lythcott-Haims, Mitch Nelles, Ari Salomon, Angelika Schilli, Cindy Stokes, Rusty Weston, Nick Winkworth

Join our mailing list,
https://www.bapc.photo/wp-content/uploads/2019/05/Dominique_20AExhibit2019-3.jpg
2400
2400
Steve Goldband
http://www.bapc.photo/wp-content/uploads/2017/03/BAPC_logo_F-1.png
Steve Goldband
2019-05-18 16:46:56
2020-04-15 14:14:22
Marking Time
Older Exhibitions
Harvey Milk Photo Center, San Francisco.
One Shot, A yearly exhibition since 2003. Each BAPC member exhibits the "one shot" that stands apart from their typical body of work.
Tressider Memorial Union, Stanford University, Palo Alto.
The Neighborhood Project, June 2004. Twelve members showed diverse bodies of work around the concept of the neighborhood. This was a BAPC thematic project.
Focus Gallery, San Francisco.
Landscape: Real or Imagined (PDF), May 2003. Twenty one members showed their work in a show curated by Linda Conner.
Commonwealth Club of California, San Francisco.
October, 2001. Documentary photography by three members: Kevin Desler, Idkah, a photo essay on life around the Idkah Mosque in Kashgar, Xinjiang, China. Bill Mattick, Democratic National Convention, Los Angeles, 2000. Gloria Upchurch, Shades of Africa.
San Francisco Art Commission City Hall Gallery.
March, 2001. Sponsored in part by the San Francisco Arts Commission. "Kay Taneyhill's LasVegas Airport 2000, Emilie Valentine's Diner,Uptown NY, and Kevin Desler's travel photos of Yemen are standouts," said Doug Konecky on DigitalCity.com.
Commonwealth Club of California, San Francisco.
August, 2000.
Calumet Photo Gallery, San Francisco.
November, 1999.
Open Studios, San Francisco.
October, 1999.