Vision
The Bay Area Photographers Collective is grounded in the belief that there is a need for an institution devoted to the development of a photographic community and its concerns. The Collective provides a home base for Bay Area photographers devoted to their art.
The Collective  promotes and encourages independence, experimentation, cooperation, and creativity. It  sustains a community of photographic artists through support, spiritual sustenance, encouragement, and constructive critique. It pursues the exhibition of members' work on a professional level.
The Collective is a nonprofit, cooperative organization that is wholly supported by its members, and does not rely on outside funding for its existence or day-to-day operations.
History
In January 1999, a group of San Francisco Bay Area photographers, inspired and led by documentary photographer and teacher Frank Espada (1930-2014), met to create a community of photographic artists. 
Our first group exhibit took place October 1999 as part of San Francisco Open Studios, followed by four other group shows in 1999, 2000, and 2001. In April 2001, BAPC attained federal tax-exempt status.
We continue our active pursuit of photography by hosting monthly portfolio reviews, bimonthly salons, and frequent workshops, artist talks, and exhibition opportunities.
Currently, we comprise between 20-30 photographers, working in all aspects of the photographic arts.
Diversity and Inclusion
BAPC is a not-for-profit photography collective which seeks to foster diversity in its applicants and members. All qualified applicants receive consideration for membership based on artistic merit and without regard to race, color, religion, sex, sexual orientation, gender identity, national origin, disability, protected veteran status or any other characteristic protected by law.
We welcome applications from photographic artists who bring additional dimensions and worldviews to the collective's artistic and collaborative ideals.
Organizational Activities
Each member of the Collective takes an active role in one of its committees. Every other month, the organization holds a general meeting to discuss collective business and to update all members on committee developments.
Executive
Responsible for assuring the smooth operation of the organization.
Membership
Acts as a contact for potential new members and guides the membership process.
Publications & Publicity
Manages how the group communicates with other organizations, sponsors and media. They publicize group events and exhibits and maintains web and social media channels.
Programs
Plans and organizes peer reviews, artist presentations, workshops, salons, and other activities.
Exhibitions
Seeks exhibition opportunities, organizes, and mounts shows.
Past Exhibits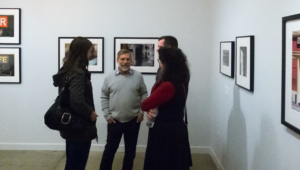 BAPC's first group show took place August 2000 at the Commonwealth Club of California in San Francisco. Since then, we have staged group exhibits once or twice a year.