Robert Hartman Lecture :: Color Infrared Aerial Photographs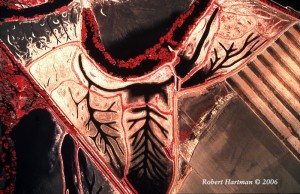 Robert Hartman will give a lecture and show slides and prints of his photographic work with a question & answer session to follow.
Exotic colors, abstract art, and abstract geometry are some of the terms used to describe the unique aerial photographs captured with color infrared film by Robert Hartman.
April 16, 2011
FREE to the public
Harvey Milk Photo Center
50 Scott St., San Francisco, CA, 94117

His love for flying, developed from age 5, enabled him to capture artistically the changing California landscape over 40 years, flying solo until recent years at over 1,000 feet above ground. The method he used is indicative of his passion and creativity — freeing his hands by controlling the plane with his knees and feet and shooting out the window with his left shoulder turned.
Color infrared film, used almost exclusively since 1998, allows Hartman to generate mystery "in combining clarity of form with a generous measure of ambiguity of reference" — due in part to the unpredictability of the results, with only the certainty that green vegetation will register as bright red or magenta. His photographs also evidence the human presence on earth and document the creative and destructive traces of our activities and raise awareness by exposing views that the naked eye cannot see.
Robert Hartman taught art at UC Berkeley for 30 years and is a resident of the Bay Area since 1961. Honored with awards for his paintings and photography, he has shown his photographic work throughout the US and internationally, including shows at the Triangle Gallery and M.H. de Young Museum in San Francisco, Oakland Museum, and Photo Museum in Osaka, Japan. His work is in many collections, including the Princeton Art Museum, Oakland Museum, San Jose Museum of Art, University Arts Museum in Berkeley, and San Francisco Arts Commissions.
https://www.bapc.photo/wp-content/uploads/2017/03/BAPC_logo_F-1.png
0
0
admin
https://www.bapc.photo/wp-content/uploads/2017/03/BAPC_logo_F-1.png
admin
2011-02-05 14:20:58
2011-02-05 14:20:58
Robert Hartman Lecture :: Color Infrared Aerial Photographs