Ingeborg Gerdes: in memoriam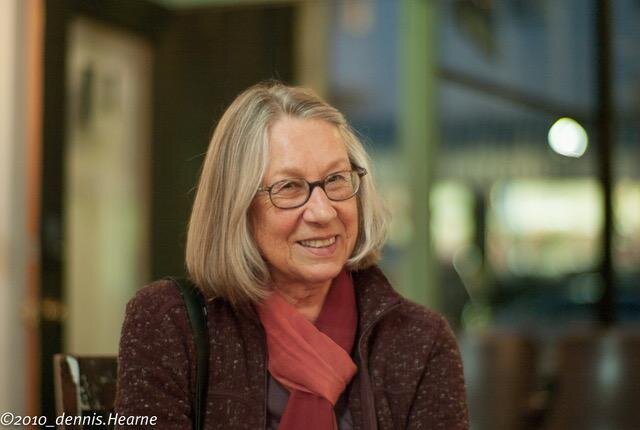 Ingeborg passed away this week. She was a beloved member of BAPC for many years. Here are some thoughts from current and past BAPC members who knew her in the collective or in one of her many roles in the Bay Area photographic community.
View Ingeborg's BAPC Member Page and her Personal Web Site. Read an article in the SF Chronicle.
Ingeborg had a sharp eye and a quick wit during our BAPC print critiques. One comment she made during a critique that always stuck with me was "A photograph should be like real life, only a little bit better". We'd follow up the print critiques with a long ride home on BART, in which we had some lively conversations. I'm sure we entertained more than a few fellow passengers. Congratulations on a life well lived Ingeborg, and may you rest in peace.
Tom Lavin
Ingeborg had a vast knowledge of photography; not just the history but also a voracious observer of current work. Ingeborg was also passionate about watching local sports teams; the 49ers, the Giants, and particularly the Warriors. She would get so nervous before playoff games! Ingeborg loved people and she was genuinely interested in the people she photographed. The staff and regulars at Golden Gate Fields racetrack where she photographed for several years all knew her, and it became a part of her social life. I will greatly miss our almost weekly conversations.
Lee Nelson
We were a group of 4 that met monthly to share our photos, ideas and feedback. Ingeborg was one of us. I always admired her talent, love of the craft, insightful comments and appreciated her encouragement and generosity of time. Our gatherings will not be the same without her but still an opportunity to remember her each time we meet. Miss you my friend.
Charlotte Niel
Ingeborg was my first college-level art professor — she was inspiring and tough as nails. No student dared to show up without both prints and ideas behind them. I was in awe of her dedication to her craft. I was excited and honored to reconnect with her via her membership in BAPC. Rest in peace my friend and mentor.
Ari Salomon
I connected with Ingeborg, when she joined BAPC. I loved when she showed up for our monthly peer reviews. She always was interested in other people's work and vision. Her insightful comments not only showed her compassion for photography but also her deep knowledge. I especially appreciated that she was always brutally honest and sincere. It was fun for me to converse with Ingeborg in our native tongue and to chat about her summers in Germany. Her warmth, curiosity and kindness will be greatly missed.
Angelika Schilli
Ingeborg and I were colleagues in the UC Berkeley Extension Photography program many years ago. She was an excellent teacher, a fabulous photographer, and a much-appreciated colleague. I just recently got reacquainted with her last year and am thankful to have known her.
Steve Raskin
Scheduled
Featured News
https://www.bapc.photo/wp-content/uploads/2017/03/BAPC_logo_F-1.png
0
0
Steve Goldband
https://www.bapc.photo/wp-content/uploads/2017/03/BAPC_logo_F-1.png
Steve Goldband
2020-06-28 19:41:03
2020-06-30 15:35:31
Ingeborg Gerdes: in memoriam